Success
About India
India is the birthplace of hinduism, buddhism, jainism and sikhism, collectively known as indian religions. indian religions, also known as dharmic religions are a major form of world religions along with abrahamic one. today, hinduism and buddhism are the world's third and fourth-largest religions respectively, with over 2 billion followers altogether, and possibly as many as 2.5 or 2.6 billion followers.
India is the birthplace of hinduism, buddhism, jainism and sikhism, collectively known as indian religions. indian religions, also known as dharmic religions are a major form of world religions along with abrahamic one. today, hinduism and buddhism are the world's third and fourth-largest religions respectively, with over 2 billion followers altogether, and possibly as many as 2.5 or 2.6 billion followers.
India is one of the most religiously diverse nations in the world, with some of the most deeply religious societies and cultures. religion still plays a central and definitive role in the life of many of its people.
sikhism, jainism and especially buddhism are influential not only in india but across the world. christianity, zoroastrianism, judaism, and the baha'i faith are also influential but their numbers are smaller. atheism and agnostics also have visible influence in india, along with a self-ascribed tolerance to other people.
The country is also one of the spots on the planet with the most diverse religious beliefs. christianity and islam reached india immediately after their formation, and began to grow in reach and influence in the country.Despite 80 percent of indian populace being hindus, and despite the great influence religions have on the life of its people, india is a secular nation not just according to its constitutional obligation, but in the general life style and habits of indian people too.
Of its 1.1 billion people, the hindus account for 80.46%, islam 13.43%, christian 2.43%, sikh 1.87%, and the buddhists 0.77%. the indian religious spectrum contains zoroastrians, jews and bahaiis too. those who do not disclose their religion also live in india and their percentage is 0.07.
The most remarkable few freedom fighters of our country are as follows:
Mohandas Karamchand Gandhi
Mohandas karamchand gandhi was born in the town of porbander in the state of what is now gujarat on 2 october 1869 to karamchand gandhi and putlibai gandhi. he had his schooling in nearby rajkot, where his father served as the adviser or prime minister to the local ruler. though india was then under british rule, over 500 kingdoms, principalities, and states were allowed autonomy in domestic and internal affairs: these were the so-called 'native states'. Rajkot was one such state.
Gandhi later recorded the early years of his life in his extraordinary autobiography, The Story of My Experiments with Truth. His father died before Gandhi could finish his schooling and at thirteen he was married to Kasturba [or Kasturbai], who was of the same age as Mohandas himself. In 1888 Gandhi set sail for England, where he had decided to pursue a degree in law. Though his elders objected, Gandhi could not be prevented from leaving and it is said that his mother, a devout woman, made him promise that he would keep away from wine,women and meat during his stay abroad.
Mohandas Gandhi is considered the father of the Indian independence movement. Gandhi spent twenty years in South Africa working to fight discrimination. It was there that he created his concept of Satyagraha, a non-violent way of protesting against injustices. While in India, Gandhi's obvious virtue, simplistic lifestyle and minimal dress endeared him to the people. He spent his remaining years working diligently to both remove British rule from India as well as to better the lives of India's poorest classes. Many civil rights leaders, including Martin Luther King Jr., used Gandhi's concept of non-violent protest as a model for their own struggles.
Subhash Chandra Bose(Netaji)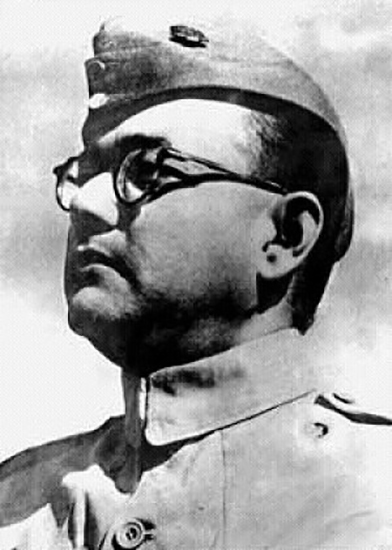 Subhash Chandra Bose is one of the most dynamic leaders of India's struggle of independence. He is popularly known as Netaji. He was born in Cuttack, in Orissa on January 23, 1897 to Janaki Nath Bose and Prabhavati Devi. His father was a famous lawyer and mother a religious lady. Among the fourteen siblings, he was the ninth child. Right from his childhood he was a bright student and was a topper in the matriculation examination from the whole of Calcutta province. He graduated from the Scottish Church College in Calcutta with a First Class degree in Philosophy. Influenced by the teachings of Swami Vivekananda, he was known for his patriotic zeal as a student. He went to England to accomplish his parents' desire to appear in the Indian Civil Services. In 1920 he appeared for the competitive examination and stood fourth in the order of merit. Deeply moved by the Jallianwalla Bagh massacre in Punjab, Subhash Chandra Bose left his Civil Services apprenticeship midway and returned to India.
After he returned to India, Subhash Chandra Bose was influenced by Mahatma Gandhi's views. He then joined the Indian National Congress and worked under the leadership of Deshbandhu Chittaranjan Das, who later became his political guru. In 1930, during the Civil Disobedience he was sent to jail and released only after the Gandhi-Irwin pact was signed in 1931. He was jailed for a year for not obeying the ban on his entry to India. Congress was elected in seven states during the general elections of 1937 and he was released. Defying the ban on his entry to India, Subash Chandra Bose returned to India and was again arrested and sent to jail for a year. After the General Elections of 1937, Congress came to power in seven states and he was released. He fled to Germany via Afghanistan and tried to persuade Germany and Japan to cooperating against the British Empire. He then moved to Singapore from Germany in July 1943 and formed the Azad Hind Fauj (Indian National Army). The army comprised mainly of Indians who were prisoners of war. The army crossed the Burma border, and reached the Indian soil on March 18, 1944.
Japan and Germany were defeated in the Second World War and a result the INA could not fulfill its objective. On August 18, 1945, Subhash Chandra Bose was declared killed in an air crash over Taipei, Taiwan (Formosa). Japan and Germany were defeated in the Second World War and a result the INA could not fulfill its objective. On August 18, 1945, Subhash Chandra Bose was declared killed in an air crash over Taipei, Taiwan (Formosa). On 20 February 1950, the very morning Sarat was to make an urgent appeal to the people of the two Bengals to reunite, he suddenly passed away in an attempt to keep alive the Bose legacy and to give it concrete shape, the close followers of the Bose Brothers, supported by Sarat's family, set up The Sarat Bose Academy at Netaji Bhawan in 1952. The overall objective is to provide access to relevant materials to all those who wish to study the life, activities and ideology of Subhas, and also to those who wish to define their actions in terms of Bose's vision of India and the world. The author is the daughter of Amiya Nath Bose. Ms Bose is an international human rights specialist and is currently based in New York. Based on an article published in Asian Studies, the journal of the Netaji Institute for Asian Studies, Kolkata.
Indira Gandhi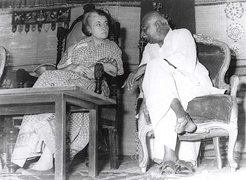 Indira Gandhi (1917-1984) was the only child of Kamala and Jawaharlal Nehru. She spent part of her childhood in Allahabad, where the Nehrus had their family residence and part in Switzerland, where her mother Kamala convalesced from her periodic illnesses. She received her college education at Somerville College, Oxford. Gandhi was born into the politically prominent Nehru family; her father, Jawaharlal Nehru, served as India's first prime minister.Gandhi served three consecutive terms as prime minister, between 1966, 1977 and another term beginning in 1980.
In 1984, Gandhi was assassinated by her Sikh bodyguards. Mrs. Gandhi acquired a formidable international reputation as a "statesman", and there is no doubt that she was extraordinarily skilled in politics. She was prone, like many other politicians, to thrive on slogans, and one – Garibi Hatao, "Remove Poverty" – became the rallying cry for one of her election campaigns. She had an authoritarian streak, and though a cultured woman, rarely tolerated dissent; and she did, in many respects, irreparable harm to Indian democracy. Apart from her infamous imposition of the internal emergency, the use of the army to resolve internal disputes greatly increased in her time; and she encouraged a culture of sycophancy and nepotism. At her death, her older son, Rajiv Gandhi, was sworn in as head of the Congress party and Prime Minister.
Political Career
Gandhi was elected president of the Indian National Congress in 1960. After her father's death, Gandhi was appointed minister of information and broadcasting. When her father's successor, Lal Bahadur Shastri, died abruptly in 1966, India's congress appointed her to the post of prime minister.She surprised her father's old colleagues when she led with a strong hand, sacking some of highest-ranking officials. Gandhi subsequently brought about great change in agricultural programs that improved the lot of her country's poor. For a time, she was hailed as a hero.
Diplomatic Success
In 1971, the Pakistan army conducted violent acts against the people of East Pakistan. Nearly 10 million people fled to India. Gandhi invited the Pakistani president to Shimla for a weeklong summit.The two leaders eventually signed the Shimla Agreement, agreeing to resolve the dispute of Kashmir by peaceful means. Her work eventually led to the creation of the new and independent nation of Bangladesh.Gandhi also led a movement that became known as the Green Revolution. In an effort to address the chronic food shortages that mainly affected the extremely poor Sikh farmers of the Punjab region, Gandhi decided to increase crop diversification and food exports as a way out of the problem, creating new jobs as well as food for her countrymen.
Kamarajar
Kamaraj Kumarasami, better known as K. Kamaraj (15 July 1903 – 2 October 1975) was an Indian politician widely known to be the kingmaker in Indian politics, and known for his honesty, integrity and simplicity.
He was involved in the Indian independence movement and was a close ally of Jawaharlal Nehru, the first Prime Minister of India. He was instrumental in bringing to power two Prime Ministers, Lal Bahadur Shastri in 1964 and Indira Gandhi in 1966. He was affectionately known as the Gandhi of the South. He is also known as Padikatha Medhai or Uneducated Intellect . In Tamil Nadu, his home state, he is still hailed for facilitating the spread of education to millions of the rural poor by introducing free education and free mid-day meals scheme in schools for the first time in the whole world during his chiefministership in 1957. He was awarded India's highest civilian honour, the Bharat Ratna, posthumously in 1976. The domestic terminal of the Chennai airport is named Kamaraj Terminal in his honour. He was hailed as one of the greatest of leaders of all the free world by the then US vice-president Hubert Humphrey.
Role in politics and freedom struggle
Kamaraj joined as an apprentice in his maternal uncle Karuppiah's levitra alternative cloth shop after dropping out of school. He would slip out from the shop to join processions and attend public meetings addressed by orators like Dr. Varadarajulu Naidu. His relatives frowned upon Kamaraj 's budding interest in politics. They sent him to Thiruvananthapuram to work at another uncle's timer shop.At the age of 16, Kamaraj enrolled himself as full-time worker of the Congress. He invited speakers, organized meetings and collected funds for the party. He also participated in the march to Vedaranyam led by C. Rajagopalachari as part of the Salt Satyagraha of March 1930.
Kamaraj was arrested and sent to Alipore Jail in Calcutta for two years. He was 27 at the time of his arrest and was released in 1931 following the Gandhi-Irwin Pact. Kamaraj was implicated in the Virudhunagar bomb case two years later. Dr. Varadarajulu Naidu and George Joseph argued on Kamaraj's behalf and proved the charges to be baseless. Kamaraj was arrested again in 1940 and sent to Vellore Central Prison while he was on his way to Wardha to get Gandhiji's approval for a list of satyagrahis.
While still in jail, Kamaraj was elected Chairman of the Municipal Council of Viruthunagar. Nine months later, upon his release, Kamaraj went straight to the Municipality and tendered his resignation from his post. He felt that "one should not accept any post to which one could not do full justice."Kamaraj was arrested once more in 1942 and sentenced to three years in the Amaravathi prison for spreading propaganda material for the Quit India movement initiated by Gandhiji. While in prison, Kamaraj read books and continued his self-education.
Early Life
Kamaraj was born 15 July 1903, to Kumarasamy Nadar and Sivakami Ammal at Virudhunagar near Madurai in Tamil Nadu. His parents were from a trading family. His real name was Kamakshi Kumaraswamy, but was affectionately shortened to Raja by his mother, Sivakami Ammal. His father, Kumarswamy Nadar, was a coconut merchant. Kamaraj was enrolled at the local elementary school, the Enadhy Nayanar Vidyalaya, and later shifted to the high school Kshatriya Vidyalaya (A Nadar minority instituition).
Unfortunately his father died within a year of Kamaraj's enrollment in school. Kamaraj's mother sold all jewelry except her earings and deposited the money with a local merchant and cared for the entire family on the monthly interest that the money earned.
Education
Kamaraj dropped out of school when he was in the sixth grade. When he entered mainstream public life he felt handicapped and realized the importance of a good education. He educated himself during his periods of imprisonment.
Kamaraj removed the family vocation based Hereditary Education Policy introduced by Rajaji. He reopened the 6000 schools closed by previous government for financial reasons and also added 12000 more schools. The State made immense strides in education and trade. New schools were opened, so that poor rural students were to walk no more than 3 miles to their nearest school. Better facilities were added to existing ones. No village remained without a primary school and no panchayat without a high school. Kamaraj strove to eradicate illiteracy by introducing free and compulsory education up to the eleventh standard.
He introduced the Mid-day Meal Scheme to provide at least one meal per day to the lakhs of poor school children (first time in the whole world). He introduced free school uniforms to weed out caste, creed and class distinctions among young minds.
During British regime the education was only 7 percent. But in Kamaraj's period it was 37%. During Rajaji's period there were 12000 schools in the state. Whereas it was 27000 in the period of Kamaraj. Apart from increasing number of schools, steps were taken to improve standard of education. To improve the standards number of working day were increased from 180 to 200. Unnecessary holidays were reduced. Syllabus were prepared to give opportunity to various abilities.
Pasumpon muthuramalinga devar
Ukkirapandi MuthuramalingaThevar (October 30, 1908 – October 30, 1963), also known as Pasumpon Muthuramalingam Thevar, was an Indian politician. He hailed from the Maravar community and became the leader of the All India Forward Bloc in Tamil Nadu, and was national deputy chairman of the party from 1952 onwards. He was elected thrice to parliament.
Childhood and family life
Thevar was born in the village of Pasumpon, Ramnad district. He hailed from a wealthy landlord family. Thevar was the only son of Ukkirapandi Thevar and Indiraniammal.His mother died before his first birthday and his stepmother the next year. From 1910 onwards he was in the custody of his maternal grandmother Parvathiammal in the neighbouring village of Kallupatti. Parvathiammal was furious on Thevar's father for having taken two new wives shortly after the death of his second wife.
During his youth, Thevar was aided by Kuzhanthaisami Pillai. Pillai was a close family friend of Thevar's father. Pillai took responsibility for arranging Thevar's schooling. First he was given private tuition and in June 1917 he began attending classes at an elementary school run by American missionaries in Kamuthi. Later he joined the Pasumalai High School(near Thirupparankundaram) and then he shifted to the Union Christian High School in Madurai. Thevar would however, not complete his studies. In 1924 he missed his final examinations due to an outbreak of a plague epidemic. The following year he also missed his chance to attend the final examinations, as he returned to Pasumpon to fight a legal battle over issues of inheritance of family property. The case would linger and was not settled until 1927, when the court ruling in Muthuramalingam Thevar's favour.
E.V. Ramasami
E.V. Ramasami, or E.V.R. as he was popularly known, was born on Sept. 17, 1879 at Erode in Tamil Nadu. He left school at the age of ten and joined his father in business when he was twelve.The patriotic fervour of Ramasami lid him to give up his lucrative business and join the Indian National Congress in its struggle for freedom. He became an ardent fighter and came to ne closely associated with Rajaji. Ramasami courted imprisonment several times during the freedom movement.
The sathyagraha he launched at Vaikom in Kerala against the despicable practice of barring entry of people of certain castes into the streets where people of other castes lived was a success and he earned the title 'Vaikkom Hero'. He left the Congress in 1925 and carried on a crusade against the caste-system and advocated prohibition. E.V.R. strove for the emancipation of the exploited masses and weaker sections of society.
In 1925 he founded the Self-Respect Movement. a socio-political organisation of which he was the President. He stared a weekly. "Kudiyarasu" (Republic) and later a daily. "Viduthalai" (Freedom) to propagate the principles of his movement. In particular, Ramasami preached inter-caste marriages and re-marriage of widows. It was his firm conviction that orthodoxy, superstition, social discrimination and many other evils which persisted in the society should go. He waged a relentless battle against these till the very end of his life.
In 1938 E.V.R. was elected President of the Justice Party. He started a Movement in the cause of Tamil during this period. At the famous Salem Conference in 1944 be and his lieutenant the late C.N.Annadurai (later Chief Minister of Tamil Nadu) converted the Justice Party into a new organisation called "Dravida Kazhagam".
Worked On Property Rights
Despite there being a goddess of learning and a goddess of wealth in the Hindu religion, why do they not grant women their education and right to property? Among the many reasons for the subjugation of women, the most important one is that they lack the right to property. In the sacred books of many religions we read that women are not given equal rights with men. Periyar, therefore, puts across the question to these who seek to improve the status of women. If they are real reformers, they must decide first whether they are going to be bound by the scriptures or not. If women should gain true independence, men should give them an equal status.
The view that women are weak by nature, and that they have been created to be under the protection or patronage of men should drastically change. In addition to the absence of property rights, women's feelings of subordination and feeling of fear, stand in the way of their enjoyment of independence. The government is trying to root out this disease by means of legislation. According to the new legislation, women have the right to a share of the parents' property. Therefore every girl will be getting her legitimate share from her parent's wealth – if the parents are wealthy. This does not mean that the boy's family demand from the girl's parents for dowry. Periyar would have felt happy if the youth had courage, and were not be hidebound in their outlook like bullocks tied to a yolk of an oil mix.
Without fear, men should come of their conventions and must treat women as their equals.