Saving of Rain Water
"Conscious collection and storage of rainwater to cater to demands of water, forv drinking, domestic purpose and irrigation is termed as Rainwater Harvesting."
The term rainwater harvesting is being frequently used these days, however, the concept of water harvesting is not new for India. Water harvesting techniques had been evolved and developed centuries ago.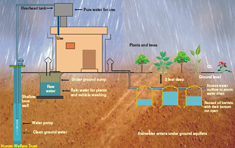 An old technology is gaining popularity in a new way. Rain water harvesting is enjoying a renaissance of sorts in the world, but it traces its history to biblical times. Extensive rain water harvesting apparatus existed 4000 years ago in the Palestine and Greece. In ancient Rome, residences were built with individual cisterns and paved courtyards to capture rain water to augment water from city's aqueducts. As early as the third millennium BC, farming communities in Baluchistan and Kutch impounded rain water and used it for irrigation dams.
Ground water resource gets naturally recharged through percolation. But due to indiscriminate development and rapid urbanization, exposed surface for soil has been reduced drastically with resultant reduction in percolation of rainwater, thereby depleting ground water resource. Rainwater harvesting is the process of augmenting the natural filtration of rainwater in to the underground formation by some artificial methods.
Why rain water harvesting?
Rain water harvesting is essential because surface water is inadequate to meet our demand and we have to depend on ground water. Due to rapid urbanization, infiltration of rain water into the sub-soil has decreased drastically and recharging of ground water has diminished.As you read this guide, seriously consider conserving water by harvesting and managing this natural resource by artificially recharging the system.
The examples covering several dozen installations successfully operating in India constructed and maintained by CGWB, provide an excellent snapshot of current systems.
How to harvest rainwater?
Broadly there are two ways of harvesting rainwater:
(i) Surface runoff harvesting
(ii) Roof top rainwater harvesting
Surface runoff harvesting
In urban area rainwater flows away as surface runoff. This runoff could be caught and used for recharging aquifers by adopting appropriate methods.
Roof top rainwater harvesting(RTRWH)
It is a system of catching rainwater where it falls. In rooftop harvesting, the roof becomes the catchments, and the rainwater is collected from the roof of the house/building. It can either be stored in a tank or diverted to artificial recharge system. This method is less expensive and very effective and if implemented properly helps in augmenting the ground water level of the area.
Advantages of rainwater harvesting
Makes use of a natural resource and reduces flooding, storm water runoff, erosion, and contamination of surface water with pesticides, sediment, metals, and fertilizers.
Reduces the need for imported water (the San Diego region imports between 80%-90% of its water from Northern California and Colorado River).
Excellent source of water for landscape irrigation, with no chemicals such as fluoride and chlorine, and no dissolved salts and minerals from the soil.
Home systems can be relatively simple to install and operate May reduce your water bill.
Promotes both water and energy conservation.
No filtration system required for landscape irrigation.
Disadvantages of rainwater harvesting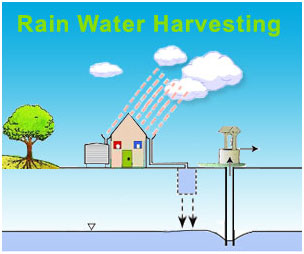 Limited and uncertain local rainfall.
Can be costly to install – rainwater storage and delivery systems can cost between $200 to $2,000+ depending on the size and sophistication of the system.
The payback period varies depending on the size of storage and complexity of the system.
Can take considerable amount of time to "pay for itself".
Requires some technical skills to install and provide regular maintenance.
If not installed correctly, may attract mosquitoes (i.e.; West Nile Disease and other waterborne illnesses).
Certain roof types may seep chemicals, pesticides, and other pollutants into the water that can harm the plants.
Rainwater collected during the first rain season is generally not needed by plants until the dry season Once catchment is full, cannot take advantage of future rains.