Free Computer Education
The computer education depends on the time we are referring to. In the earlier days, the computers used to be huge and the languages it understood used to be complex. Only people with extraordinary skills can be educated. But now, computers have invaded into human life so much that there is hardly someone now who is not educated on computer. Basically, anyone who knows how to operate on the computer and get his work done is called computer educated.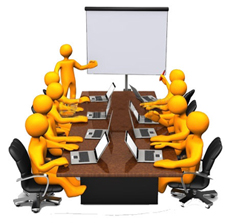 Why Computer Education?
Computers today are one of the important things we are using. They have helped a lot in compiling a lot data which used to be in hard records. One of the uses or benefits of computers is that they are able to provide and retrieve information so quickly so they have increased the pace of our work. The increase in the speed of work has helped us to do many things with less resources like in past a lot of manpower was used for record keeping and files and other things were made to keep the records saved. This is one use of computers in our lives other than that computers has helped us to work with machines which have the ability to produce the best quality of products with maximum speed and efficiency.
In today's world it is necessary that to cater for such a heavy population things are made at the higher pace with best quality, so it is possible with the help of computer that we are able to cater for the need of quantity and quality of products required in daily life. Computer is also helping us in education of children; it has enabled us to get the information form one part of the world to the other at a very rapid pace. So in summary computer today is in every walk of life, and is helping us a lot in developing at a fast pace.
Basic Skills
Students of computer education acquire basic skills in operating the computer's basic functions. This is referred to by educators as "operational" computer literacy, according to "Computer Education". Operational literacy involves learning the components of the computer and their functions, such as the monitor, mouse, keyboard, central processing unit (CPU) and modem. Students also learn to work with the computer programs, such as word processors and Web browsers.
Youths listing to computer education
Over the past years, we see computers vastly becoming popular as household items. Imagine the luxury of sending an instant email instead of posting a letter. Checking news, weather and watching even favorite sports programs via the internet has become a normal routine. Today our children's lives are getting influenced by technology. We find computers in use everywhere, whether going to the supermarket or bank. This is because it is faster and helps us complete our work without mistakes. It is in this regards that parents too have to realize the need to help children develop strong computer skills. Computers and internet are here to stay with software titles targeting children increasingly available in the market.
Human Welfare Trust Internet research session at computer camp
One benefit of the computer is that children are learning to become smarter. They are growing up computer literate and thus will have a huge advantage in their future lives. One reason is because computer literacy has become a huge job qualification and developing an early comfort zone puts children ahead.
Human Welfare Trust has therefore developed a computer literacy program every holiday to train our youths, and acquaint them with specific knowledge of computer technology. Our program focuses on the following principles:
1. Teaching young people operational skills by immerging them in a variety of software programs and internet technology 2. Creating an awareness of what the computer can do, as a tool for learning and finding out about things through research. 3. An awareness of ideas and behavior that are part of the computer culture, such as knowledge of safe behavior on the internet. 4. A body of successful experiences that over time will develop within a young person the intuition for dealing with new things he or she encounters in a computer environment. 5. A clear attitude of the mastery, discovery, purpose and pleasure in using computer effectively.
Learning Enhancement
Computers are also used to enhance student competency in core content areas like English and social studies. Students might explore the Internet to find illustrations related to subjects they are studying. Science students might browse scientific magazines or websites. Students also use computers to perform research for their assignments.
Incremental Learning
Computer science curriculum varies by grade level. In junior high school, students are prepared to learn programming techniques with algorithmic thinking and logic problems. In high school, students learn more .Computer technology is an integral part of modern life and contemporary education. Computer education is necessary because students will continue to use computer technology in their academic and professional lives.
Age and qualification is no-bar here, because knowledge of computer is necessary for every person due to fast growing of technology and market. You can start learning in any age if you have some basic knowledge of English (Just for reading and Writing class III level books).India is a densely populated country where a large number of people live without access to the basic education and primary health facilities.. In addition to their poor socio economic condition, another major cause of their sufferings is lack of education and public awareness. Youth is embodiment of energy and enthusiasm, which can be utilized for the socio- economic development of the nation and eradication of social evils. Human welfare trust has started project on "Free computer training program" for rural youth to improve functional capability and employability of youth. The goal of the program is to development of self-confidence to face innovate and unfamiliar situation. We have developed the rural youth such aptitude and skills which will enable them to function better as productive citizens. We have successfully enrolled 150 youths in our training center. We are also trying to expand the free computer education in the all part of the rural and urban area.
| | | | | | |
| --- | --- | --- | --- | --- | --- |
| Sl No | Description of works | Quantity | Rate Rs. | Per | Amount Rs. |
| 1 | Land cost | 4 Acres | 7 crores | Acre | 28,00,00,000.00 |
| 2 | Site development cost | | | | 50,00,000.00 |
| 3 | Bore well | | | | 5,00,000.00 |
| 4 | Generator power back ups | | | | 50,00,000.00 |
| 5 | Rain water harvesting | | | | 50,00,000.00 |
| 6 | Water sump | | | | 10,00,000.00 |
| 7 | Septic tank | | | | 10,00,000.00 |
| 8 | Solar power plant | | | | 10,00,000.00 |
| 9 | Laboratory for institution | | | | 1,00,00,000.00 |
| 10 | Gate & security room | | | | 5,00,000.00 |
| 11 | Surveillance cameras | | | | 5,00,000.00 |
| 12 | Road Pathways | | | | 5,00,000.00 |
| 13 | JCB operator | 1875 | 2500 | Sq.ft | 46,87,500.00 |
| 14 | Electrician | 5250 | 2500 | Sq.ft | 1,31,25,000.00 |
| 15 | A/C mechanic | 5250 | 2500 | Sq.ft | 1,31,25,000.00 |
| 16 | Diesel mechanic | 5250 | 2500 | Sq.ft | 1,31,25,000.00 |
| 17 | Fitter | 5250 | 2500 | Sq.ft | 1,31,25,000.00 |
| 18 | Motor mechanic | 5250 | 2500 | Sq.ft | 1,31,25,000.00 |
| 19 | Beautician | 4500 | 2500 | Sq.ft | 1,12,50,000.00 |
| 20 | Tailoring | 4500 | 2500 | Sq.ft | 1,12,50,000.00 |
| 21 | Hardware & Networking | 9000 | 2500 | Sq.ft | 2,25,00,000.00 |
| 22 | House keeping | 1500 | 2500 | Sq.ft | 37,50,000.00 |
| 23 | Web Designing & Animation | 1500 | 2500 | Sq.ft | 37,50,000.00 |
| 24 | Plumbing | 4,500 | 2500 | Sq.ft | 1,12,50,000.00 |
| 25 | Maintenance cost | | | | 1,00,00,000.00 |
| | TOTAL | | | | 45,48,62,500.00 |